Meet the Visual Eyes Optometry team
Troy Spann
Optometrist and Owner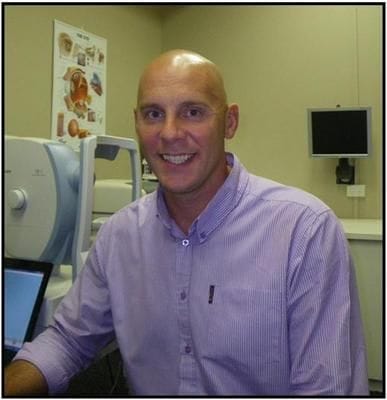 Troy has always had an enthusiastic interest in eyes and optics. After finishing school in Brisbane, he did a 4 year apprenticeship in the manufacture and fitting of prescription lenses. But while he loved the complexities involved in this field, his true desire was for eye health and the correction of vision issues. So whilst still working, he went to night school to get the grades needed to study Optometry at University. After graduating, he settled on the Sunshine Coast. Being a mad-keen sportsman, enjoying kitesurfing, triathlon, surfing, watersking, paddling, and golfing (amongst others), it seemed logical he live in a place that not only offer the ideal lifestyle, but also provide him the opportunity to practice the profession he has loved for over 20 years. In 2004, with business partner Christiane Wenzel-Revis, he fulfilled another goal by opening an independent practice in Maroochydore's Sunshine Plaza.
Christiane Wenzel-Revis
Frame Style Consultant and Owner

She has always liked doing fiddly things, so when she couldn't get an apprenticeship with a goldsmith, she opted for optical mechanics/dispensing with the prospect of later going into frame design. She finished her training in Germany in 1982 and migrated to Australia in 1983. She stayed in optics and developed a fascination with the relationship of form and colour and how it can work to enhance facial features. "What I am looking for, is definitely that wow factor. It never ceases to amaze me how one little carefully designed and crafted piece of metal or plastic can have such a profound impact on a client's look, and the way they feel about themselves. It gives me immense pleasure and satisfaction to show everyone their full potential." Although she was the manager of 3 shops, she soon realized that the only way to truly practice her craft was to open her own shop, giving her the freedom to access all that was available in the weird and wonderful world of optics. That dream came to fruition when opening Visual Eyes.
The Visual Eyes Team Members
Upon entering a Visual Eyes Optometry store, you have an immediate sense that "it's all about you". There is a genuine enthusiasm to achieve that perfect outcome for every person. Their exceptional customer service is strengthened by having the comprehensive understanding of frames and lenses that only years of optical experience can deliver. "We work with exciting and progressive products amongst a vibrant, motivated team serving fantastic clients – what more could you ask for." The Visual Eyes team undertake monthly training with industry experts to constantly refine and update the skills needed to give you the best advice and service. It's a combination of individuals with the same ideals, working to achieve the one goal - to create a friendly environment that motivates each other and to share their passion for glasses with you.